The 12 best movie love themes of all time
Ranking the best of a dying breed of movie anthem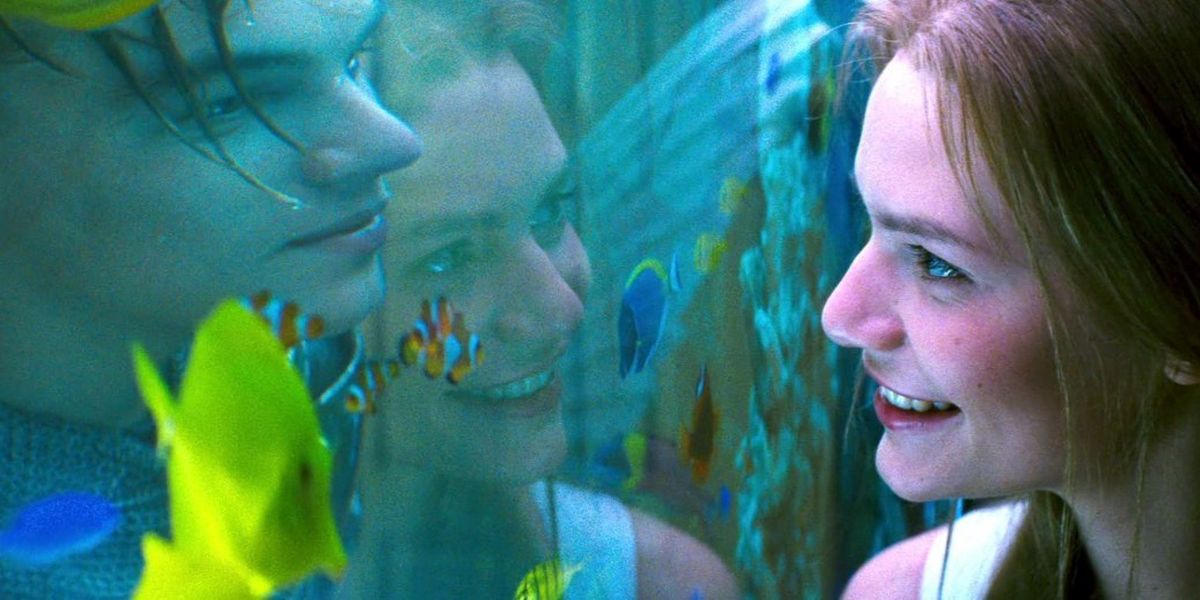 Love themes arose in the latter half of the 20th century, original songs that were written for (and inspired by) the movies to which they were attached. Movies have always had scores, of course, and songs have long been included in movies to give a sense of time or place. (Or, in the case of Hitchcock's The Man Who Knew Too Much, as an excuse to cast Doris Day: the song "Que Sera Sera" was introduced in that movie.)
Love themes were something new, though: songs that combined the universality of pop songs with the specificity of a movie plot. Sure, they might have started as marketing endeavors ("See the film that inspired the hit song!" "Buy the soundtrack from the hit movie!"), but the best love themes made their movies better—echoing and anchoring the powerful feelings on screen.
---
The Rules
For our purposes, a love theme must have words; otherwise it's part of the score.
Musicals don't count. (Thus, no West Side Story in this list.)
The song must be written for the movie. (Thus, no "I Will Always Love You." I know it's brilliant, I know it's perfect for The Bodyguard, I know it's on the most popular movie soundtrack of all time. Doesn't matter: Dolly Parton wrote it in 1974. Suck it up.)
---
12. "A Time for Us" from Romeo and Juliet (1968)
Nino Rota (music), Larry Kusik and Eddie Snyder (lyrics)
Any discussion of love stories has to start with Romeo and Juliet, and a list of love themes is no different. Zefferelli's production was renowned for many things, but even in the film's earliest reviews, the music was heralded as both brilliant and befitting. (No surprise, perhaps—Nino Rota is one of the great film composers of the 20th century: in the years before Romeo & Juliet, he wrote music for Fellini's La Dolce Vita and 8 1/2, and a few years later, he'd score Coppola's first two Godfather movies.) Mixing bardic qualities and 1960s sensibilities—the choir!—the song is sweet, sad, and epic.
Key line: "And with our love, through tears and thorns we will endure."
11. "Where Do I Begin" from Love Story (1970)
Francis Lai (music), Carl Sigman (lyrics)
Alternately the best or most treacly movie of the decade, depending on whom you ask, Love Story defined pure and tragic love for a generation — at least, for those who hadn't been swept up by Zefferelli's Romeo and Juliettwo years prior. The melancholy beauty of the music was a perfect match for the (spoiler alert) tragedy that ends the film, all of which is amplified by lyrics that subtly foreshadow Jenny's death (e.g. "She fills my heart… with angels' songs").
Key [heartbreaking] line: "I reach for her hand, it's always there."
10. "All for Love" from The Three Musketeers (1993)
Bryan Adams, Mutt Lange, and Michael Kamen
Moving away from tragedy—unless we count Rod Stewart's hair in the video above—this song manages to transform the naïve passion of Disney's "The Three Musketeers" into a rousing declaration of romantic love. (Or brotherly commitment? Or both? It's unclear.) The combination of optimism and star power—seriously, it took a lot to overshadow Kiefer Sutherland and Chris O'Donnell in the early '90s—led to this anthem being played on every radio station in the world, nonstop, for 15 months.
Key line: "Let's make it all for one and all for love."
9. "Nobody Does It Better" from The Spy Who Loved Me (1977)
Marvin Hamlisch (music), Carole Bayer Sager (lyrics)
Every James Bond movie has a theme song, but this was the first to speak overtly to the romance between Bond and his girls—an effect, perhaps, of having it written by Marvin Hamlisch and Carole Bayer Sager, two of the great love-song writers of the decade. (They also wrote #2 on this list.) While it's not grounded in the story like the best love themes, it so typifies the style of the late '70s and meshes so perfectly with the aesthetic of its movie that it's worth including on our list. (Semi-interesting bit of trivia: it's the only Bond theme so far that doesn't share its name with the movie.)
Key line: "The spy who loved me is keeping all my secrets safe tonight."
8. "I Don't Wanna Miss a Thing" from Armageddon (1998)
Diane Warren
Diane Warren could occupy all 12 spots on this list: her first hit love theme was "Nothing's Gonna Stop Us Now" from Mannequin, and she went on to write "How Do I Live" for the movie Con Air (recorded by both LeAnn Rimes and Trisha Yearwood in 1996), "Because You Loved Me" for Up Close and Personal (1996), and "There You'll Be" for Pearl Harbor (2001) — all of which were nominated for Academy Awards, by the way. "I Don't Wanna Miss a Thing" remains one of her most popular songs ever, having turned millions of people into Aerosmith fans—no small feat—while also serving as a backdrop to the most romantic use of Animal Crackers to date.
Key line: "The sweetest dream will never do, cause I'd still miss you, baby, and I don't wanna miss a thing."
7. "Because You Loved Me" from Up Close and Personal (1996)
Diane Warren
Of all Diane Warren's brilliant catalogue, "Because You Loved Me" seems to stand out as the most classic love theme. Perhaps that's because, more than any other of Warren's songs, every line in this one seems to echo specific moments in the film—I, for one, can't hear the lyrics without seeing Michelle Pfeiffer with a perm and hot pink suit.
Key line: "You were my strength when I was weak, you were my voice when I couldn't speak."
6. "Uninvited" from City of Angels (1998)
Alanis Morissette
City of Angels isn't a great movie, but its premise—an angel falls in love with a woman, then (spoiler alert) chooses love over immortality—inspired the second-most 1990s soundtrack imaginable. (Clueless is first, natch). Even with tracks by U2, the Goo Goo Dolls, Jimi Hendrix, Sarah MacLachlan, Paula Cole, and Peter Gabriel, Morrissette's searching and screaming ode rose above the others to be the most defining song of this love story.
Key line: "Like anyone would be, I am flattered by your fascination with me."
5. "Everything I Do (I Do It For You)" from Robin Hood: Prince of Thieves (1991)
Bryan Adams, Mutt Lange, Michael Kamen
One of the best-selling singles of all time, this song eclipsed its movie in popularity right out of the gate. Written by the same team who wrote "All for Love," this song actually has no lyric that you can tie directly to the film—but for an entire generation of people, hearing this song automatically brings to mind visions of Kevin Costner unleashing a burning arrow from his bow. (Not a euphemism.)
Key line: "I would fight for you, I'd lie for you, walk the wire for you, yeah I'd die for you."
4. "Up Where We Belong" from An Officer and a Gentleman (1982)
Buffy Saint-Marie and Jack Nitzsche (music), Will Jennings (lyrics)
Some might argue that An Officer and a Gentleman is remembered only for its famous final scene, in which Richard Gere walks through a factory in his dress whites to pick up Debra Winger and walk her off to their new life together. That's probably true, but what makes this scene so stirring is not just their love or the applause of the other factory workers—"Way to go, Paula!"—but the introduction of this rock duet, sung by Jennifer Warnes and Joe Cocker. A perfect melding of song and scene that makes both so much more powerful.
Key line: "The road is long, there are mountains in our way, but we climb a step every day."
3. "My Heart Will Go On" from Titanic (1997)
James Horner (music), Will Jennings (lyrics)
It's perhaps no surprise that one of the most popular movies of all time has one of the most popular songs of all time. Beyond its fame, though, the song is anchored more in its story than almost any other love theme. Sure, it's cheesy, and sure, Celine Dion has inspired a thousand parodies by pounding her chest in the music video, but this is peak love theme right here: sincere, passionate, specific, and universal. (Also: tin whistle.)
Key line: "Love can touch us one time and last for a lifetime, and never let go till we're gone."
2. "Through the Eyes of Love" from Ice Castles (1978)
Marvin Hamlisch (music), Carole Bayer Sager (lyrics)
Ice Castles is the cheesiest of all films, the most cloying of things shown during your local station's Saturday movie matinees. But it's great—and made even better because it has one of the greatest love themes of all time. To understand why, you need to know a bit about the story. (Spoiler alerts, duh.)
Lexie is an aspiring figure skater in a tiny industrial town in Iowa, and she finds early success—enough so that she moves to a training facility in Colorado, away from her family and the boy who loves her. While away, she is blinded in a horrible accident, has to move back home, and basically gives up on life. But the boy who loves her convinces Lexie that she can skate through her blindness, so they work hard—insert training montage here—they fall in love, and eventually she ends up skating a flawless program at the regional competition, to much cheering and acclaim. Something else special happens at the very end (you'll have to watch the movie, or you can just watch the scene over at the Youtube), but the point here is that the love theme is called "Through the Eyes of Love"—get it? Because she's blind.
Key line: "I can feel so much, since I found you, looking through the eyes of love."
1. "Kissing You" from Romeo + Juliet (1997)
Des'ree and Tim Atack
What started with Romeo and Juliet now ends with Romeo and Juliet. The scene in which Leonardo DiCaprio sees Claire Danes through the fish tankfor the first time is so perfect that it would have been powerful even with total silence. Frankly, that's how it feels anyway, as all sounds of the party dim and we are left with little more than the two of them and the strains of this song, all the world having slipped away when their eyes met. Never has a song been better fit to a mood, a situation, or a love story.
Key line: "But watching stars without you my soul cried."
---
Runners-Up and Interesting Notes
There are many great love themes that were left off this list, some better than others. But here are a few worth mentioning:
"Unchained Melody," made famous by the Righteous Brothers, was actually written originally for a 1955 movie called—wait for it—Unchained. Almost no one saw the movie, let alone remembers it, but that explains why the song has that bizarre title.
"When I Fall in Love" is part of the American songbook, a true classic, so it's easy to forget (or never know) that it was originally written for One Minute to Zero in 1952. Like "Unchained Melody," it is so distant from its originating movie at this point that it's hard to consider them "love themes" anymore.
"Falling Slowly" from Once (2007) is worth mentioning if for no other reason than it's the most recent love theme I can think of.
"Take My Breath Away" from Top Gun (1986) is a great song—the whole soundtrack is pretty fantastic, actually—but despite the love we all have for Kelly McGillis, nothing tops the song's cameo in Ocean's Eleven.
---
Update from March 2021
This post was originally published on Medium (where it remains), though since I haven't used Medium in several years, I'd rather forgotten about it there. Which is why I was so surprised when I logged in on a lark recently and noticed that the article was still getting hundreds of views per month! Turns out, the Googs has determined that my toss-off listicle is the authoritative voice on this (admittedly very niche) question. Who am I to argue?